Determine the Business Fitness of your EA using Intelligent Analytics & Insights
Open EA User-Centric Assessment Service
Change language to German
Change language to English
---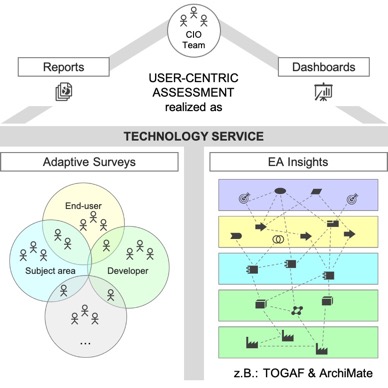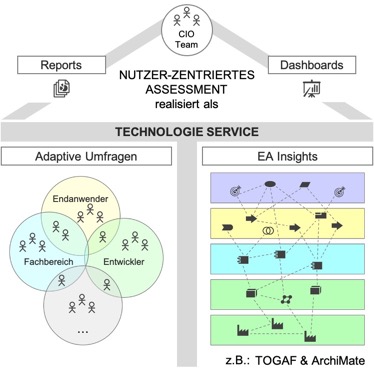 Do you want to increase the value contribution of your enterprise architecture?
Möchten Sie den Wertbeitrag Ihrer Unternehmensarchitektur erhöhen?
The Open EA User-Centric Assessment Service delivers insights from the user's perspective. CIOs take actions based on deep architectural insights gained from direct user feedback.
Das Open EA User-Centric Assessment Service liefert die Bewertungen Ihrer Architekturen aus dem Blickwinkel der Benutzer. CIOs nutzen direktes Nutzerfeedback, um tiefergehende Einblicke in ihre Architekturen zu gewinnen.
Continuous assessments make trends and change more transparent. Reports and interactive dashboards resulting from intelligent analytics establish the basis for your decisions and the strategic alignment of EA intiatives.
Durch kontinuierliche Assessments werden Trends und Entwicklungen transparent. Reports und interaktive Dashboards auf Basis von intelligenten Analysemechanismen stellen die Basis für Handlungsempfehlungen und der strategische Ausrichtung von Initiativen im Enterprise Architecture Umfeld dar.
Send your inquery to info@omilab.org for further information on the Open EA User-Centric Assessment Service.
Senden Sie Ihre Anfrage an info@omilab.org um weiterführende Information zum Open EA User-Centric Assessment Service zu erhalten.
Analysis happens at all levels of architecture!
Die Analyse findet auf allen Ebenen der Architektur statt!
End-users give feedback on products. Business users provide input on the applications they use. Developers give feedback on technologies, development tools and deployment platforms. Individual elements, as well as entire solution designs, are evaluated. All this, made possible by intelligently linking your architectural information to the users with adaptive survey techniques.
Endbenutzer geben Feedback zu Produkten. Nutzer aus den Fachbereichen geben Input zu Applikationen. Entwickler analysieren die eingesetzten Technologie- und Entwicklungsplattformen. Einzelne Elemente aber auch gesamte Architekturdesigns werden bewertet. Möglich wird dies durch eine intelligente Verknüpfung Ihrer strategischen Zielsetzung, Achitekturinformationen, adaptiven Umfragetechniken und smarten Konnektoren zu Laufzeitsystemen.
---
A Technology-Service by OMiLAB (info@omilab.org).
Ein Technologieservice des OMiLABs info@omilab.org.