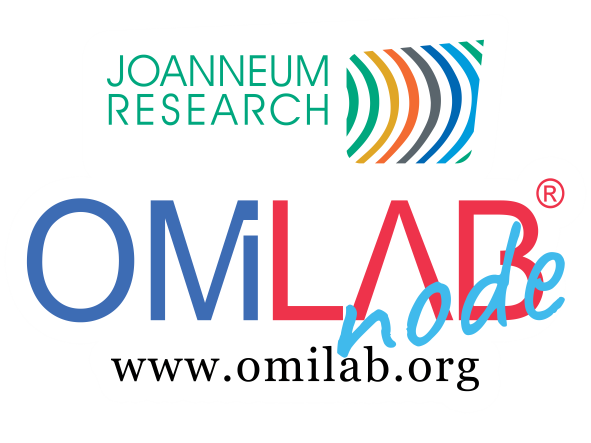 OMILAB@Joanneum Research
"Development of novel decision-making tools for use in the Edge-to-Cloud continuum"
The work of the OMiLAB@JOANNEUM RESEARCH Node provides new research results in the areas of Artificial Intelligence/Optimization, Semantic Service Technologies, and Intelligent Decision Support for use in the Edge-to-Cloud continuum.
About the OMILAB Node
The OMiLAB@JOANNEUM RESEARCH is an IoT innovation space for innovation and development. It is both a physical and virtual space equipped with IoT tools (e.g., low-cost sensors, gateways, RFID/NFC tools) to explore the development and design of AI methods and optimization techniques, as well as to demonstrate the benefits of these data-driven IoT techniques for decision-making.

The goal is for all relevant data to flow digitally throughout the product creation and use process. This allows for quick feedback loops from production to development, which improves future service concepts. The CCM research group focuses on the implementation of intelligent services using various AI and optimization methods.
Competences
Artificial Intelligence & Optimization
Digital Services Engineering in the edge-to-cloud continuum
Data-driven IoT platforms and connectivity tools
About the Hosting Organisation
As one of the largest non-university research institutions in Austria, JOANNEUM RESEARCH has about 450 employees. JOANNEUM RESEARCH cooperates on a national and international scale with private and public sectors and universities to generate innovations, while engaging in a consequent transfer of expertise to the economy. It focuses on the short and medium-term technological needs of the economy.In this way, JOANNEUM RESEARCH is a trustworthy partner in the field of digital innovation and transformation and develops applied high-tech solutions for the production lifecycle.

The Connected Computing group has an emphasis on new approaches for decision-making with established application areas including industry, health care and culture.

The OMiLAB node is located at JOANNEUM RESARCH / DIGITAL / Connected Computing. It will be used for teaching and research purposes related to the development of novel decision-making tools.
Results
Get an overview what this OMiLAB has accomplised! Selected results are presented below as a contribution to the global community:
All further results of the OMiLAB Node are via the organizer.
Activities
The following, selected activities are organized by the OMiLAB.
FAIRWork - Bringing human, AI, data and robots together
The EU-funded FAIRWork project will deliver a decision support system that integrates digital twins optimising the overall production process according to multiple parameters and democratises decision making allowing workers and machines to participate in decision making. The project combines model-based approaches to transparently design, simulate and improve decision making, co-creation laboratory models and physical experiments as communication media and reliable indication of data and AI algorithms. JOANNEUM RESEARCH provides their human laboratory and their competence in data lakes, big data and IoT.
Resources
The following cyber-physical resources are available at the OMILAB node:
Scene2Model
Business Layer using SAP-Scenes
Dobot Magician
Proof of Concept Layer CPS-Device
mBot
Proof of Concept Layer CPS-Device
Publications
Relevant publications of the OMILAB node: