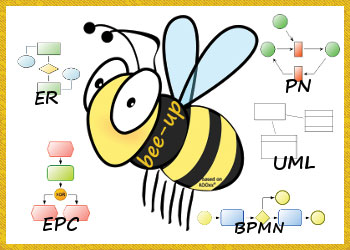 This tutorial presents an approach to semantic enrichment and digital twins based on conceptual modeling, demonstrated through specific features of the Bee-Up multi-language modeling tool which expands the value of conceptual models beyond their traditional functions. Bee-Up supports modeling with several established languages – e.g. BPMN, EPC, ER, UML, Petri Nets. The goal of the tutorial is to highlight how Bee-Up facilitates knowledge externalization and mediation for the "digital-first era" – firstly, in RDF format as it enables several layers of semantic enrichment towards a specific flavor of model-driven Knowledge Graphs; secondly, by interoperating with cyber-physical devices towards a specific-flavor of Digital-Physical Twin binding. Such features are show- cased during the tutorial, while also discussing the metamodeling approach that is under the hood of Bee-Up's model processing capabilities.
The tutorial provides insight about innovative possibilities of processing models, advocating that they should be treated as knowledge structures and abstraction mediators. The attendees learn about the capabilities provided by the chosen environment – Bee-Up – through showcases that focus on the design-time semantic enrichment of visual models and on their run-time treatment in a Digital Twin context.
Bee-Up is an educational tool that can obtained at
https://bee-up.omilab.org
.